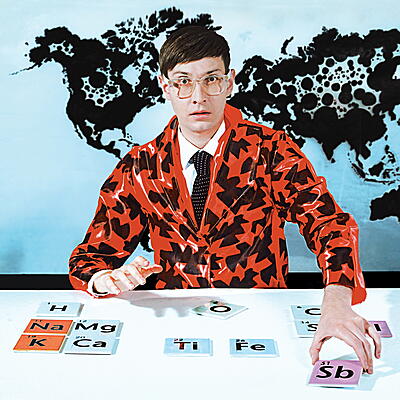 Everything, Everything
Tomlab
Tom121
An unpredictable and dramatic "big band song cycle about science and information", Everything/Everything is a new departure for Simon Bookish, being his first album for TOMLAB.

Additionally, whilst previous Simon Bookish releases have been informed by the sounds of digital synthesizers, Everything/Everything does away with them entirely to focus on live instruments.

Scored for an ensemble dominated by saxophones, brass, piano, harp and Farfisa organ, it features luminaries from both the jazz and experimental classical music scenes.

Whilst this is almost certainly his most pop-oriented release to date, Everything/Everything, as it's name suggests, finds room for moments of racing Philip Glass minimalism, lopsided disco, expressionist cabaret, and even an eerie ambient interlude. Lyrically, the album's concept is "the flood of information" in our modern age, taking in chemistry and ecology, language and art, sometimes surreal, sometimes humourous, sometimes provocative, a weird blur of fact and fiction, delivered in Bookish's distinctive English-eccentric vocal.

It's only natural that Simon Bookish would want to tackle this chaos of stuff, since 'Simon Bookish' is the pseudonym of London-based composer Leo Chadburn, whose diverse recent work has included everything from sound-art installations in Bregenz, Austria, improvisation and guest spots with Leafcutter John and Polar Bear's Seb Rochford, and computer music for contemporary dance at the Royal Opera House to an acclaimed appearance with the National Theatre as "The Singer" in Brecht's "Caucasian Chalk Circle".
Simon Bookish

:

Everything, Everything

The Flood

Simon Bookish

4' 03''

Dumb Terminal

Simon Bookish

4' 06''

Portrait Of The Artists As A Fountain

Simon Bookish

3' 59''

Carbon

Simon Bookish

3' 11''

Victorinox

Simon Bookish

4' 06''

Il Trionfo Del Temp… (ridley Road)

Simon Bookish

3' 17''

Synchrotron

Simon Bookish

5' 16''

A Crack In Larsen C

Simon Bookish

2' 41''

Alsatian Dog

Simon Bookish

4' 10''

A New Sense Of Humour

Simon Bookish

3' 16''

Colophon

Simon Bookish

3' 40''
Nice as well: