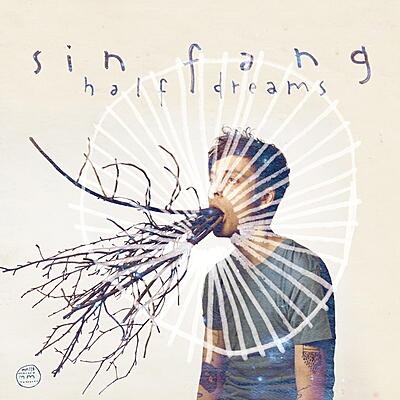 Incl. Instant Download
Sindri Már Sigfússon, better known as Sing Fang – and as someone who grew up with summer in his heart and on his mind (skateboarding, eating pizza, reading the German "Bravo") –, called his last album "Summer Echoes", and even though there was yet another long winter in-between, his new EP "Half Dreams", dropping only a year after the album, follows in the same vein: It's not echoes, but omens in this case, harbingers of a summer that has yet to come. Only a few seconds into "Half Dreams", and this is blatantly obvious: the guitar is there, the voice(s), everything is switched on, going heads over heels, a-tumble, and it feels like running out into nature after months of hibernation. It might sound like a dream, but Seabear's founder and mastermind, who, unsurprisingly, also creates stunning visual art, hardly ever sounded this joyous and awake.
"Half Dreams" is not all exuberance though: "I won't be afraid anymore," Sin Fang sings on the rather dramatic and majestic sounding "Walk With You", one of five new tracks he presents on this EP. It's a haunting tune, a circumnavigation of musical worlds, almost an Icelandic R&B track of sorts, with slow beats, glockenspiel, again many layers of vocals, and bittersweet overtones (or undercurrents), like resolutions for the season to come: let's not forget how bad things were, how stuck we felt, but it has to change, cannot go on like this.
And it doesn't: the guitar he picked up rather late – he was already in his twenties – is at the core of the obscurely beeping "Shine For Me", strummed chords at first to wash over hazy vocals, campfire-style, then vast landscapes busted open, lots of room, again more of that element he's so in love with: the human voice. Here it shines again, this unique take on (indie) pop that Sigfússon has developed over the last four albums (two solo albums and two Seabear records). In fact, it shines like a freshly done tattoo, some blood mixed in as well, and it's going to last just as long.
Having recently presented his visual skills in a limited edition book with Múm's Örvar, Sin Fang (no more Bous, in case you didn't notice), a collector of prison tattoo designs from Iceland, finishes the new EP with some instantly recognizable "sha-la-la-la" sing-along vocals ("Strange House") for those hours spent on an ideal, imaginary beach that feels like the year 1962 or 1969, and then, lastly, "It's Not There": his take on off-beat stomping, beats made for dancing and chanting, a celebration of "not-quite-knowing" and nevertheless going on, even stronger than before.
A few weeks before "Half Dreams" was finished, there was a flood in the studio where Sin Fang was working on the final mix. (No cat was injured or forced to take a bath, rest assured.) The surprisingly cold water must have washed away the last bit of doubt and uncertainty, only to expose something he knew all along: that honest songwriting serves as the ultimate war paint.
Sin Fang

:

Half Dreams

Only Eyes

Sin Fang

2' 33''

Walk With You

Sin Fang

4' 02''

Shine For Me

Sin Fang

4' 17''

Strange House

Sin Fang

3' 19''

It's Not There

Sin Fang

4' 40''
Nice as well: