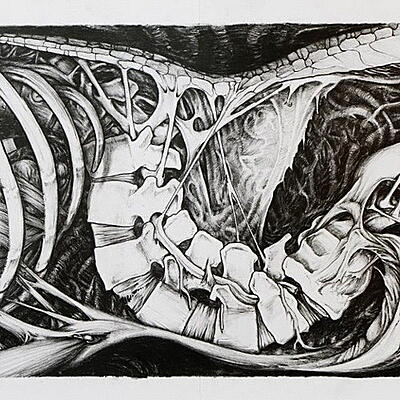 LP: Ltd. to 400 copies, 180 gr Vinyl, incl. DIN A2 poster and a double-sided DIN A6 postcard.
After the renowned and out-of-print 2006 album "Dream Of Waking", this Autumn brings us SLEEP MUSEUM's second vinyl album on Anna Logue Records, 'White Like Summer Sutures'. While SLEEP MUSEUM/Robert Anthony's output has been quite genre-breaking over the last years 'White Like Summer Sutures' combines some of their more rhythmic, sequencer-driven dark minimal electro tracks, recorded between 2009 and 2012. Musical references range from early Front 242 to Portion Control and Skinny Puppy, yet it is always clearly just SLEEP MUSEUM. The album's artwork was exclusively drawn and designed by Paul Takahashi, who in his own words describes Robert Anthony/SLEEP MUSEUM's work as follows:

"Sleep Museum is, as I see it, outsider art. It is raw, unapologetic, driven by obsession, sometimes lit by sparkles of surrealist poetry, sometimes downright deviant and cruel. While the music itself belongs to a specific genre that ranges from Fad Gadget to Martial Canterel, it is constantly under the grip of a darker vision that pours through the lyrics. They reveal an automatic process of exploration, of revelation, of self-vivisection. The beast within becomes self-aware and rebels just as the spine depicted on the cover, unbalancing the body and the object up to the point of breaking the fourth wall – the inner gatefold then reveals its own template, the paper cuts, the smeared carbon. Robert Anthony uses his synths to pry open himself, his words becoming the little voice to be heard from the Museum concealed within each one of us. Each song from White Like Summer Sutures is a fleeting fantasy around which sound coagulated, creating malicious seeds ready to find a new soil – the listener's mind." - Paul Takahashi, Helsinki, September 15, 2013.
Nice as well: