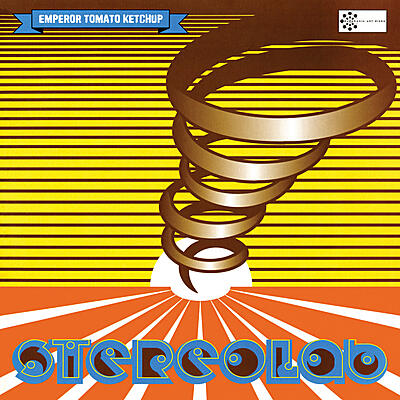 2CD: 6 panel digipak, booklet, bonus tracks
3LP: Includes download, Gatefold in PVC sleeve, poster.
1996 studio album, remastered from the original tapes. "While their previous work explored motorik's horizontal momentum and the aspirational levitation of exotica, ETK was something different. Like Talking Heads' Remain in Light or LCD Soundsystem's self-titled debut or Erykah Badu's New Amerykah Part One: 4th World War, the album consolidated international movements into people-pleasing new forms of funk. Its 13 tracks matched polyrhythms to political slogans with results as electrifying as the needle-on-the-record/tornado-on-the-horizon cover art the Groop nicked from a 1964 Béla Bartók LP cover." (Pitchfork).


Stereolab

:

Emperor Tomato Ketchup

Metronomic Underground

Stereolab

7' 54''

Cybele's Reverie

Stereolab

4' 43''

Percolator

Stereolab

3' 47''

Les Yper-Sound

Stereolab

4' 05''

Spark Plug

Stereolab

2' 30''

The Noise Of Carpet

Stereolab

3' 06''

Tomorrow Is Already Here

Stereolab

4' 57''

Emperor Tomato Ketchup

Stereolab

4' 37''

Monstre Sacre

Stereolab

3' 44''

Motoroller Scalatron

Stereolab

3' 49''

Slow Fast Hazel

Stereolab

3' 53''

Anonymous Collective

Stereolab

4' 33''

Freestyle Dumpling

Stereolab

2' 00''

Noise Of Carpet

(Original Mix)

Stereolab

2' 00''

Old Lungs

Stereolab

2' 00''

Percolator

(Original Mix)

Stereolab

2' 00''

Cybele's Reverie

(Demo)

Stereolab

2' 00''

Spark Plug

(Demo)

Stereolab

1' 29''

Spinal Column

(Demo)

Stereolab

55''

Emperor Tomato Ketchup

(Demo)

Stereolab

2' 00''

Les Yper Sound

(Demo)

Stereolab

53''

Metronomic Underground

(Demo)

Stereolab

2' 00''

Percolator

(Demo)

Stereolab

1' 01''

Tomorrow Is Already Here

(Demo)

Stereolab

2' 00''

Brigitte

(Demo)

Stereolab

2' 00''

Motoroller Scalatron

(Demo)

Stereolab

1' 48''

Anonymous Collective

(Demo)

Stereolab

2' 00''
Nice as well: