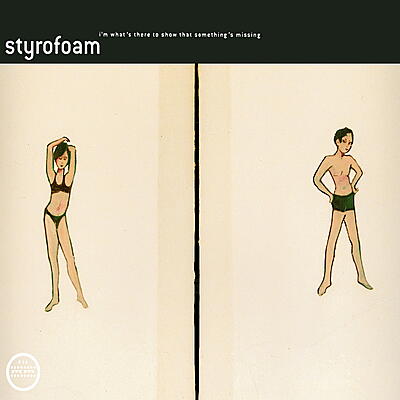 I'm What's There To Show That Something's Missing
Morr Music
morr 036 cd
It's been quite a while since we last heard of styrofoam on Morr Music - apart from his excellent contributions to our latest compilation "blue skied an' clear"(mm 030) and his 7inch "To Simply Lie Here And Breathe/Oh, But You Are Totally" (a.n.o.s.t. 005), that is. But Arne van Petegem has not been lazy in the meantime. He released a split picture 7inch with Dntel on San Diego label Rocketracer last november as well as a 4-Track cdep on the same label. Additionally, he contributed two remixes to The American Analog Set's "Updates EP" on Tigerstyle Records. Furthermore, in the spring of 2002 styrofoam has been seen touring Italy and France supporting The Notwist while last November he completed a North American tour together with his labelmates Opiate and Lali Puna. This is where he first presented his new material that is now to be released as the "i'm what's there to show that something's missing" lp.
Playing live on that particular tour provided Arne with quite an important experience. "It gave me the confidence I needed to pursue the style of vocals I wanted to have on the album. In the beginning, I was still playing back and processing all my vocals from my powerbook, but my tour mates kept pushing me to sing live and one time I came back to the venue to soundcheck, and they simply put a microphone in front of me, so I didn't really have a choice. and if I could do the vocals live and be happy with how it worked out I could surely do it on the record." Unlike styrofoam's scarce ventures into the vocal domain in the past, he now seems to be completely at ease with his vocal qualities. He does not bury them deep in the mix or hide them behind complex layers of sound processing anymore. On the contrary, he puts them in front, loud and clear for anyone to hear.
Those vocals on " i'm what's there ..." will strike a multitude of chords with listeners familiar with the late 80s/early 90s indie-scene. "I'm a huge sucker for this scene. But for me it's both very easy and hard at the same time to point to particular references for my music. Maybe simply because I listen to so much stuff and so much different stuff. I guess it's okay to say that all of this and more sooner or later finds its way into the music i'm producing." Focusing on what was made possible by electronic music production (and trying to come to grips with this plethora of possibilities) on his last two Morr releases, styrofoam partially returned to approach his production similar to how he has worked while fronting several guitar bands in his youth or going solo for the first time as Tin Foil Star in the late 90s. "There was a conscious decision at one point of the production process where I decided to buy an acoustic guitar and a really good studio microphone. I came to a point where I felt like I had to 'break out of the computer' for a bit. When you're working in front of it all the time you run the risk of concentrating too much on the details and losing sight of the bigger picture. Using a guitar enabled me to break away from this and to enter some sort of 'real' space inside the 'virtual' space of the computer - the sound and acoustics of the actual room I was recording in for instance. At the same time the computer enabled me to confront this more traditional recording method with all matters of digital sound processing."
Right now, his music has shifted up a gear in terms of accessibility which has always been an important issue to Arne. " i'm what's there ..." can be considered as styrofoam's most pop-ish record to date. But he would not go as far as to call it a pop record. "I think there's a difference between accessibility in sound and in structure/context. I don't really find it a challenge to make an 'abstract' sounding record. I find it much more of a challenge to use abstract or heavily treated sounds within a more accessible context. I think this juxtaposition can create some very alienating effects within a track. the only way both a pop song and an abstract sound can truly shine is by opposing them within one and the same context."
One can truly argue that styrofoam's new album has mastered the art of juxtaposing those aspects while keeping them perfectly balanced. Anyone with an interest in richly textured electronic sounds will be as satisfied as those who always crave for beautiful melodies, catchy tunes and: lyrics. "When I had the entire album mixed down and on one cd early january and listened to it for the first time from start to finish I was really surprised (and quite upset) by the lyrical content, especially because there seemed to be some sort of story in there that I didn't put in there at all. It seems like some of the songs had started to interact with each other and created something new that was beyond my control. Anyway, the thing is that I prefer people to build their own stories - I don't like presenting people with a vague context of 'this is what it's about', especially when I can't even explain it myself."
So, even if a few things remain mysterious (which is not a bad thing at all, in our opinion), one thing is for sure: styrofoam has made a huge step forward and "i'm what's there to show that something's missing" definitely shows what has been missing: This great record!
Styrofoam

:

I'm What's There To Show That Something's Missing

The Long Wait

Styrofoam

4' 30''

A Heart Without A Mind

Styrofoam

5' 44''

You Pretend You Own This Place

Styrofoam

6' 44''

Forever,you Said Forever

Styrofoam

5' 08''

It Wouldn't Change A Thing

Styrofoam

3' 43''

I Have To Keep Reminding Myself To Be Pleased

Styrofoam

6' 04''

Blow It Away From Your Eyes

Styrofoam

5' 52''

If I Believed You/back Into Focus

Styrofoam

6' 23''
Nice as well: