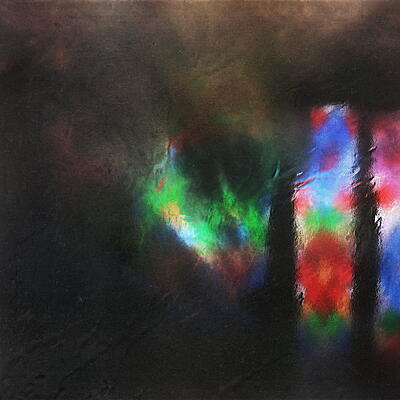 Suicideyear
Color The Weather
Lucky Me
LM051LP
Which paint in the set is exactly the shade of a cumulus cloud? Or more exactly: of all the fronts that sweep over the wide gulf of adolescence, how many of them collide, violent at first, to later produce a sunshower?

James Prudhomme, AKA Suicideyear, obliquely pondered these questions in the years spent making his first proper full-length, titled Color the Weather and announced today for release on LuckyMe on 6 July. Its namesake - a coloring competition for children run by regional TV station WFAB in his native Baton Rouge, Louisiana - he felt a fitting eponym for the project, giving local kids a blank piece of paper to channel their worlds into sideways swatches of indigo and grey, devoid of lines to stay within.

Lead single "Days Forever" calls on London-based singer Georgia to lend songwriting and co-production chops. He taps Red Bull Music Academy classmate Casey MQ (for vocals on "Said & Done," piano on "Color the Weather (Outro)" and additional production on "Tired"), longtime friend and collaborator Outthepound AKA Chris Burrell (sampled on "Days Won't End") and LA-based singer-songwriter John Keek (for additional production on "Momma"). By no coincidence his ascent has involved a fair share of collaborating - most recently teaming up with Yung Lean for single "Spider Feet" - and on Color the Weather he does so in broader strokes.

While channeling the album's themes of youthful introspection and make-believe, Color the Weather also reflects the paradoxical rootedness of Suicideyear's signature but ever-expanding sound - it's undeniably informed by the hyper-locality of Louisiana, where Prudhomme has resided all his life and sonically osmosed the thunderous kicks and snaking hi-hats of the parish soundtrack. Yet the vivid imagination and skyward gaze of the young know no limit, he sought to escape turbulent teenage years by playing around with production software and riding borderless waves of electronic music online, squeezing faraway color onto his primary palette. The result is a geographic transcendence, or at least as close to it as one can get while surfing couches in Baton Rouge. In the years that followed he caught the attention of other musical pilgrims, including Oneohtrix Point Never (whose now-defunct Software label played host to Suicideyear's early output) and more recently the folks at LuckyMe, who signed him a year back with his debut already in the works.
Suicideyear

:

Color The Weather

Days Won't End

Suicideyear

Days Forever

(Feat. Georgia)

Suicideyear

Kept Distance

Suicideyear

Little Palace Hidden Heaven

Suicideyear

Said and Done

(feat. Casey MQ)

Suicideyear

Color the Weather ((Outro))

Suicideyear
Nice as well: