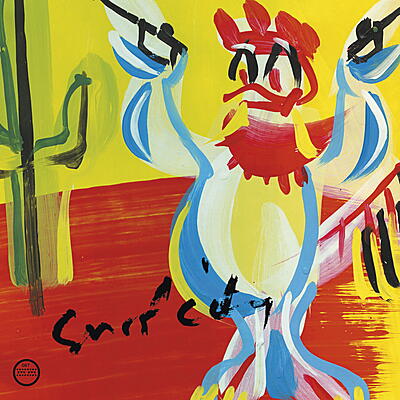 Incl. Instant Download
An anachronism right at the beginning: Surf City was founded in a video library, in this dying out relict of an analogue age. When Davin Stoddard and Josh Kennedy ran into each other one evening in their small town in New Zealand Josh had just bought a sound card and Davin a four-track Davin bought it from a study grant that was meant to be invested in books. Presumably, the money was spent better this way. An investment into the future that goes over into the past as well: It is also a homage to the promise of pop music. And this debut EP has become nothing less. It is storming and strolling, light-footed, laconic, produced just like that, lo-fi and excessive.
Surf City tells about the simplicity of sound. About pop music's essence, that bands like Pavement, The Zombies or The Jesus and Mary Jane share as a smallest common denominator. Everyone who has ever heard the breakers against New Zealand's coast suspects that Brian Wilson has a beach house in Surf City as well. However, New Zealand's legendary era of rock music the label Flying Nun and bands like The Clean or Tall Dwarfs stand for, had to be mastered retrospectively by the four artists of Surf City. "Flying Nun is a household name for people that listen to music, but for those outside of that it's virtually unheard of. We didn't start listening to it till our late teens, it's still one of those things you have to discover."
But during Davin Stoddard is saying that his songs belie his words. This rumbling atmosphere of breaking up of "Headin' Inside" could have been released by Flying Nun Records as well - but not as a nostalgic revival of good old times but rather as a self-confident continuation of a legendary sound. With Morr Music Surf City has found a congenial home. Not only because Flying Nun, its artists and bands, as well as their air of DIY tell about that social cultural climate in which Thomas Morr founded his label ten years ago, too. Actually, it seems inevitable that Morr Music releases a debut of a band from New Zealand now.
Surf City

:

Surf City

Headin' Inside

Surf City

2' 28''

Records Of A Flagpole Skater

Surf City

2' 55''

Dickshakers Union

Surf City

3' 26''

Canned Food

Surf City

2' 12''

Mt Kill

Surf City

2' 47''

Free The City

Surf City

5' 27''
Nice as well: