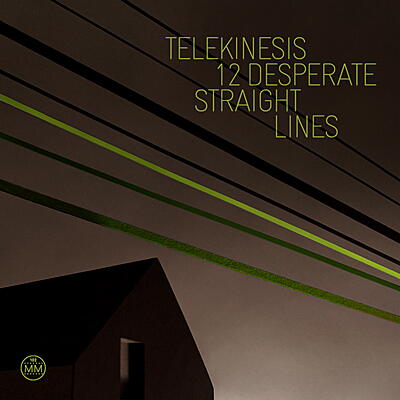 Telekinesis
12 Desperate Straight Lines
Morr Music
morr 102-cd
Incl. Instant Download
When Telekinesis mastermind Michael Benjamin Lerner set out to record the songs for the follow-up to his debut album Telekinesis! in summer 2010, he found himself with no band, a case of vertigo, and a wrecked van. The long-distance relationship that inspired his debut album's songs of wanderlust had ended, and he had just returned from a much-needed escape to Berlin where he banished himself to his room to write songs from 9 to 5 each day.
With the original recording date scrapped, Michael was inspired (by the heavy, fuzzy bass of Flin Flon's A-OK) to buy a bass guitar and, in a sudden burst of inspiration, wrote four more songs for the album. His second attempt at recording led him from rainy Seattle to Portland and Jackpot! Studios, where he once again hooked up with Chris Walla (Death Cab for Cutie, The Decemberists, Tegan & Sara) to continue their partnership from Telekinesis!: Again it was Walla who recorded the songs straight to tape, no-frills style, and on top of producing and mixing them he even lent some of his songwriting skills to the new album (on the track "Gotta Get It Right Now").
In case you're wondering why analog tape in this day and age: Yep, it's true. The man behind this one-man project is still as old school as he was last time around. As a matter of fact, Lerner doesn't even know how to use a digital camera. "All the pictures I take with them suck," he says. His songs are more like Polaroids shot with guitars and drums and a mic; shake them a bit and you'll get to see those huge sing-along melodies. Better yet: they won't fade. Ever.
Together Chris and Michael tossed out all the rules – as they are wont to do when they get together (see Telekinesis!) – and, as Michael says, "went a little crazy," with impromptu dance parties and recording drum parts backwards.
The outcome of these sessions is 12 Desperate Straight Lines, twelve new songs of heartache, anger, and even a little hopefulness. Twelve songs that instantly hit you with Lerner's trademark melodies, with that certain undeniable immediacy and everything else the name Telekinesis has come to stand for: a sense of urgency, a colossal knack for writing powerful and catchy (indie) pop nuggets with a lot of fuzz and occasional distortion. 12 Desperate Straight Lines is certainly straightforward enough to get you moving right away: its production is bigger, more to the point and in-your-face.
However, Lerner's sophomore effort is not desperately straight: it has its crooked and quirky and even bittersweet moments, it has the occasional prettiness of ballads ("Patterns"), its confessions, intertextual references to Paul Simon even. And of course there's Lerner's philosophy of "ever-forward motion". It actually looks like this man simply has to write huge songs. He has to write them quickly and straight from the gut. Listening to the new album you can tell that music has to be a visceral affair for Lerner. Gut feelings reign supreme.
For the upcoming live dates, Telekinesis has re-emerged with a new band featuring Jason Narducy (Robert Pollard band, Verbow) on bass and Cody Votolato (Jaguar Love, The Blood Brothers) on guitar. The van is fixed, the dizziness is gone, and the young Mr. Lerner has returned with more proof that Spin was right when they said, "If you don't like Telekinesis, your ears don't work."
Stalwart evidence: 12 Desperate Straight Lines. The kind of album that will enter your ears and stay for good. What's more: It will make you move. And that's what Telekinesis is all about. Right?
Telekinesis

:

12 Desperate Straight Lines

You Turn Clear In The Sun

Telekinesis

3' 22''

Please Ask For Help

Telekinesis

2' 43''

50 Ways

Telekinesis

3' 30''

I Cannot Love You

Telekinesis

2' 01''

Dirty Thing

(Album Version)

Telekinesis

2' 22''

Car Crash

Telekinesis

2' 40''

Palm Of Your Hand

Telekinesis

1' 28''

I Got You

Telekinesis

2' 50''

Fever Chill

Telekinesis

2' 52''

Country Lane

Telekinesis

2' 34''

Patterns

Telekinesis

2' 33''

Gotta Get It Right Now

Telekinesis

3' 39''
Nice as well: