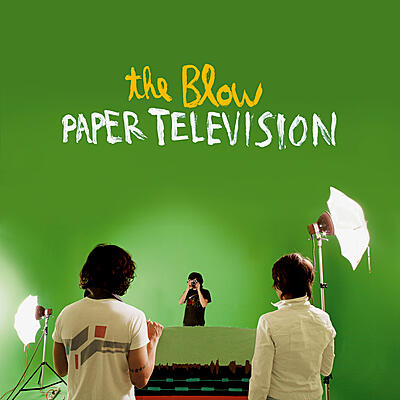 The Blow
Paper Television
Tomlab
Tom084
Hold a piece of pop music in your hand. How heavy is it? If you threw it, could you break the window of a passing car? Could you break a tooth?


For several years, The Blow have been hard at work developing an essential pop music formula, fashioned, as the best popular music is, with the function of getting under the skin of the people. What that music does once it gets there is what makes The Blow worth thinking about. Fascinated with the physics of pop construction, The Blow makes music that holds a weightless gravity. Their songs are light enough to sail easily through the air, landing simultaneously on the turntable of a London DJ, in your Mom's car stereo, and in the iPod of a middle schooler in study hall. However, they are somehow heavy enough to stick around, laying in your mind long after long after their new album, Paper Television, is over.


The Blow is Jona Bechtolt and Khaela Maricich. The two have been working together as The Blow since 2004 when they recorded a limited edition EP called "Poor Aim: Love Songs". It quickly became clear that the results of their combined forces flexed with a muscle that had a range far beyond the limited edition market. United by a shared affection for the sparkling production styles of mainstream radio, and both raised with deep roots in the DIY scenes of the Pacific Northwest, the duo makes fractured pop chart toppers to seduce all manner of hearts out of their cases, onto the floor. Jona's percussive savvy bumps and trips under Khaela's intimate, insistent vocals.


No-wave and glitch-hop, club anthems and doo-wop, all party together in the architecture created by The Blow's sound. Imagine a see-thru space station, floating in the dark, culling out via radio the most delicious flavors of planet earth's pop music production (the Pharells, the Phil Spectors, the Quincy Joneses). In the hovering structure of Paper Television, these sounds bounce around and mingle, try new moves and brave courageous hairstyles, ultimately getting infused (knocked up) with The Blow's vital lyrical content. Packed softly into hearty and buoyant vessels of songs, the words and beats are sent back out into the unknown, a transmission from the humans, for the humans, intended to spell out clearly in the night sky to all who come across them: "H-E-L-L-O! YOU ARE NOT ALONE: WE ARE HERE, AND WE ARE LISTENING."
The Blow

:

Paper Television

Pile Of Gold

The Blow

2' 13''

Parantheses

The Blow

3' 34''

The Big U

The Blow

2' 32''

The Long List Of Girls

The Blow

2' 55''

Bonjour Jeune Fille

The Blow

2' 51''

Babay (eat A Critter, Feel It')

The Blow

3' 09''

Eat Your Heart Up

The Blow

2' 15''

Pardon Me

The Blow

3' 14''

Fists Up

The Blow

4' 14''

True Affection

The Blow

3' 23''
Nice as well: