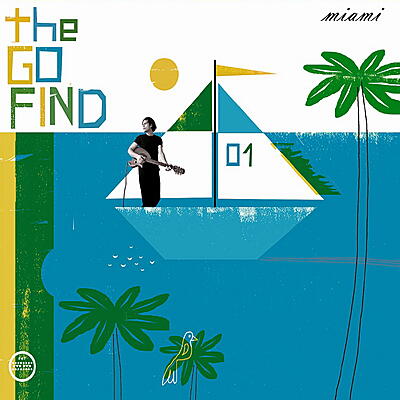 Incl. Instant Download
The go find, Morr Music's latest signing, is a one-man band from Antwerp, Belgium. The face and the voice behind it belong to 28 year old Dieter Sermeus. He could easily become 2004's Indie posterboy, and not just because he knows how to use a guitar and an iBook to create beautiful popsongs for late-nite cruising on highways and grooving to on makeshift living-room dancefloors.
If you read "new act - Belgium - Morr Music" and you can't help but think "Styrofoam", you might be forgiven. Indeed: without Arne Van Petegem, as Styrofoam is known in real life, the go find's debut album would probably have sounded more lo-fi and less sophisticated.
When Dieter turned 15 years old, he had already spent half his youth listening to his big sister's Duran Duran and Cure records. Shortly after, however, he discovered the guitar bands of the legendary SST label which turned him from pop teen into a proper indie boy. He established his first band, Orange Black, in which he played guitar and sang. Soon they opened for heroes like Pavement, Stereolab, Seam or Unwound in local clubs across the country: Dieter had gotten a first glimpse of Indie heaven.
Not much later, Sermeus founded another band called Napkin Vs. Soda. They released several tapes and contributed to compilations within a very lively home-recording/LoFi scene. Orange Black, on the other hand, released three lp's on Atomic and Labelman ("It's Electric", "Bright Lights", "Morning Notes") and one 7-inch ("Freak Generation b/w Nutricious") between 1997 and 2002.
Three years ago, Dieter Sermeus started to play around with electronics. It took some time until he was able to satisfy his own expectations towards a balanced combination of good songwriting and sophisticated, electronic production. At this early stage, Styrofoam, already a good friend of Dieter's for several years, helped him out by teaching him the basics of electronic music production. Some of the songs on the go find's debut album date from this period, but they've been worked on and improved over and over again. In the last few months before finishing "Miami", Dieter got into the pleasant habit of meeting up with Arne every Wednesday morning, to have a few capuccinos and discuss the go find's music. More often than not, they would then disappear into Arne's studio in order to put all those new ideas in practice and rework Dieter's songs time and time again. Musically, the go find took huge steps towards what Sermeus wanted his project to sound like, but the most difficult thing was to record his vocals properly. After a lot of work in the studio on his vocal delivery, Dieter finally managed to meet his own, high expectations.
Due to the close exchange of ideas between the go find and Styrofoam, a certain musical resemblance between the two projects came almost naturally. They even support each other when it comes to taking their music to the stage. But where Styrofoam always tends to take an introspective look inside, The go find takes the other route by being positively extrovert. Sermeus presents himself as a very self-confident songwriter, whose catchy, yet sometimes melancholic popmusic bypasses the brain and hits the heart directly. His songs feature the bitter sweetness of some of The Postal Service's tracks on the one hand. On the other, they also bring to mind the subtle glow, The Notwist presented on "Neon Golden". The go find occupies the intersection of both bands, which Dieter refers to as being highly influential to him.
According to Sermeus, the perfect place to listen to his music is in a car, driving by night. Not too special a place, you might think, but for Dieter it has to be a 1975 Lada. In case you don't own a car like this, you should try to catch the go find live on stage as soon as possible - because that is where Dieter Sermeus really belongs - or invite some friends over for an improvised the go find karaoke party in your kitchen. The choice is yours.
The Go Find

:

Miami

Over The Edge

The Go Find

4' 18''

Summer Quest

The Go Find

5' 01''

City Dreamer

The Go Find

2' 54''

What I Want

The Go Find

3' 46''

Sky Window

The Go Find

4' 12''

Bleeding Heart

The Go Find

3' 55''

Modern Times

The Go Find

2' 58''

The Party

The Go Find

2' 12''

Igloo

The Go Find

3' 37''

Blisters On My Thumb

(Album Version)

The Go Find

3' 52''
Nice as well: