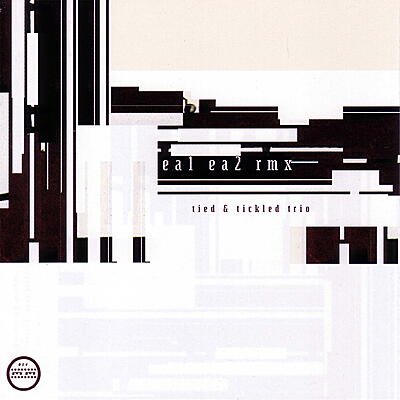 Incl. Instant Download
since the mid-90s more and more boundaries between rock, electronica, and jazz have been broken down. the tied + tickled trio is known for pushing genre mix-ups even a bit further. combining sampling and editing techniques with traditional (collective) improvising, this band works like a strong but sophisticated machine. several layers of soundscapes and (programmed as well as drum stick driven) beat patterns are created for elaborate jazz saxophone tunes to surf on top of them. the tenor sax provides an edgy element that typical post-rock outfits lack in their featureless instrumental crawl through wide spread sound textures.
the tied & tickled "trio" consists of more than three musicians. there are six permanent members. apart from the acclaimed jazz saxophonist johannes enders, who comes from a rather academical background, those people can be seen as the core group of a weilheim/germany based music scene, which in the course of the last decade has established a rich and promising diy-avantgarde. bands like the notwist, village of savoonga, potawatomi, console or loopspool, to name but a few, worked out very individual approaches to indie-rock, noise, jazz and electronics.
when the tied & tickled trio's first album appeared on kollaps/payola three years ago, it coincided with a general atmosphere of open-mindedness. back then, more and more people had started to be interested in all kinds of musical styles and genres and their ears tended to cope with all sorts of strange and abstract noises.
usually a remix results from rather extended editing sessions, but in the end it can be compared with an improvised version of an "original" track, whose elements, structures and textures it re-works and re-uses more or less detailedly.
as the tied & tickled trio is very much involved in jazz aesthetics and improvising techniques, a remix compilation seems to fit extremely well in the band's discography.
"ea1 ea2" was released in 1999. now several producers were asked for a reinterpretation of the material. confronted with the density of the original tracks, they had no choice but either translating the complexities of the collective powers of concentration into complexities of loop layers, or simply concentrating on and pointing out single elements.
» the remixing artists and their remixes
1 - opiate
(a project of thomas knak, who releases on april records (copenhagen) and also runs his own label, hobby industries)
a couple of broken beats and one or two piano chords are enough to make oscillating track abstractions and pop qualities look like the most leisure occupation.
2 - christof kurzmann
(improviser and laptop musician from vienna, member of orchester 33 1/3, runs the charhizma label, ...)
hypnotical loop layers of expressive saxophones, percussions, sax escapades, clavinets, sax outbursts, piano runs .... repetitive structures are urging ahead.
3 - max.ernst
(thomas brinkmann is known for mixing his techno with theoretical discourse.)
the tied + tickled trio and minimal techno. a straight groove cuts vibraphone slices and wind player fragments for motorised organisms. hooting ears. pupils give little piano concerts.
4 - console
martin "14 zero zero" gretschmann puts the tied + tickled trio in a train on electroid tracks. dazed, half opended eyes. the landscape behind the window purrs rhythmically, crackles, chirps and hums.
5 - wechsel garland
(jörg follert releases on karaoke kalk label (cologne) under names as wunder, saucer,...)
just listen to those vibraphone melodies somewhere in the middle of the track to get overwhelmed....
6 - max.ernst
the straight bass drum again. buttery grooves with spasmic sample interferences.
7 - kandis
(jens massel a.k.a. senking a.k.a. fumble releases on karaoke kalk and raster noton)
club-life as a shade of memory. the tied + tickled trio material is covered by a melancholic haze. as if the music was filmed with soft-focusing lenses.
8 - gustavo lamas
(artist from buenos aires. released a 12" and a cd on traum records (cologne), which belongs to the kompakt label family)
discreet allusions of exquisitely blurred sample left-overs. slumberland grooves.
Tied & Tickled Trio

:

Ea1 Ea2 Rmx

T&tt Meets Opiate Downtown

Tied & Tickled Trio

4' 34''

Nummer 2

(Christof Kurzman Mix)

Tied & Tickled Trio

5' 10''

Db Rmx 1

(Thomas Brinkmann Mix)

Tied & Tickled Trio

6' 27''

Van Brunt

(Part Of Payola)

Tied & Tickled Trio

5' 41''

Ea1 Ea2 Nr. 10

(Wechsel Garland Mix)

Tied & Tickled Trio

4' 47''

Db Rmx 2

(Thomas Brinkmann Mix)

Tied & Tickled Trio

4' 21''

Utrom

(Kandis Mix)

Tied & Tickled Trio

4' 29''

Ttt

((Tornillo Mix))

Tied & Tickled Trio

7' 45''
Nice as well: