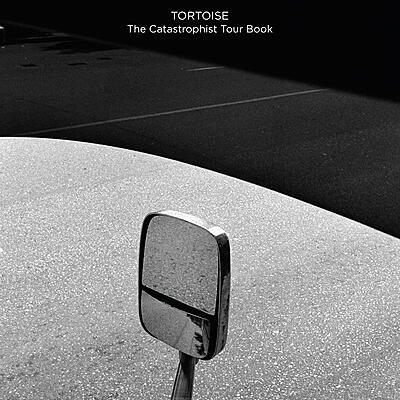 Book+CD: 6" x 8.5", 80 page perfect bound book of black & white photographs, incl. CD
Following the release of their album The Catastrophist at the beginning of 2016, the legendary Tortoise embarked on a world tour, taking their signature blend of dub, rock, jazz, electronica, and minimalism to audiences across the globe. On their U.S. West Coast tour in April & May of 2016, they were joined by acclaimed photographer and frequent collaborator Andrew Paynter, who was introduced to the band through mutual friend Tommy Guerrero. In addition to his work with Tortoise on A Lazarus Taxon and Beacons of Ancestorship, Andrew has worked with artists and commercial clients such as Apple, Facebook, Warner Brothers, Converse, Paper Magazine, and The Wall Street Journal to name a few.

"Every time we step on a stage, we are trying to invest ourselves in the performance as much as possible, so that we can give the audience a unique experience. We want you to know that we consider it a privilege to play our music for you." - Douglas McCombs, Tortoise

Aided by his Leica M6, Hasselblad X-Pan and a Pentax 67, Paynter (below, left) captured a myriad of intimate photos of Tortoise on the road, both on and off stage, which Tortoise and Paynter have assembled into an 80 page book of black & white photographs. Along with the book comes a CD of The Catastrophist with new exclusive photo art (below, right) by Paynter, and a download coupon for access to live recordings from the tour.
Tortoise

:

The Catastrophist Tour Book

The Catastrophist

Tortoise

3' 52''

Gopher Island

Tortoise

1' 13''

Shake Hands With Danger

Tortoise

4' 11''

The Clearing Fills

Tortoise

4' 23''

Hot Coffee

Tortoise

3' 54''

Yonder Blue

Tortoise

3' 19''

Tesseract

Tortoise

3' 55''

At Odds With Logic

Tortoise

3' 16''
Nice as well: