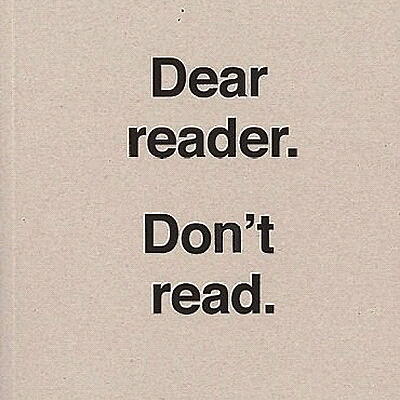 Ulises Carrión
Dear Reader. Don't Read
Alga Marghen
PLANA-K24VOCSON095
Book+CD: A4-size, 272 pages, includes the CD "The Poet's Tongue"
A key figure in Mexican conceptual art, Ulises Carrión was an artist, editor, curator, and theorist of the post-1960s international artistic avant-garde.

This book and CD, issued in collaboration with the Museum Reina Sofia in Madrid within the context of Carrion large retrospective, is focused on Ulises Carrión's personal and groundbreaking approach managing to illustrate all aspects of his artistic and intellectual work. This includes books, magazines, videos, films, sound pieces, mail art, public projects, and performances, along with Carrión's initiatives as curator, editor, distributor, lecturer, archivist, art theorist, and writer.

It is a significant body of original work structured so as to place a spotlight on every facet of his production. Without losing sight of the unclassifiable nature of his oeuvre, this book emphasizes Ulises Carrión's constant search for new cultural strategies and the extent to which his projects were determined by two fundamental themes: structure and language. These represent artistic guidelines influenced by a literary education, which he invariably struggled against, and are pervasive in his work. This duality corresponds to the exhibition title "Dear reader. Don't read" which illustrates his ambiguous relation to literature, a recurring theme in his work.
Ulises Carrión

:

Dear Reader. Don't Read

The Poet's Tongue Excerpt I

Ulises Carrion

1' 00''

The Poet's Tongue Excerpt II

Ulises Carrion

1' 00''

The Poet's Tongue Excerpt III

Ulises Carrion

1' 00''
Nice as well: