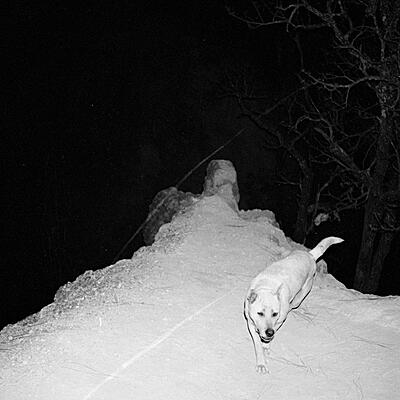 Vargdod (Varg + Celldod)
Brutal Disciplin
Opal Tapes
OPAL098MC
Incl. Instant Download
Ultra bleak, minimal, ritual electronics. Debut releases from this new duo.

From the fertile fauna of the Swedish scene comes Vargdöd, the official pairing of Jonas Rönnberg and Anders Karlsson, better known´as Varg and Celldöd. Across six long form tracks the duo exercise their keen instinct for expansive, gloomy atmospherics and techno subtleties with a spirit that naturally aligns with the overcast outlook of Opal Tapes.

This outing is not the first time the two have been seen together. The ever-prolific Rönnberg adopted his Black Leather Harness alias to appear alongside Celldöd on Krig, the first cassette release on Karlsson's own Brutal Disciplin label. From those early manoeuvres in 2014 Karlsson has quickly established himself as a proponent of uncompromising, unconventional techno on labels such as Suction
Records and Kess Kill. Rönnberg meanwhile has continued to be a potent force both with his solo and collaborative work and at the helm of Northern Electronics, most recently releasing the third installment in his Nordic Flora series. On Brutal Discipline, the tones and textures shift but the mood remains consistently foreboding. The mechanical rhythms strain through distortion and the clouds of noise billow across vast space on opening track "Kennel Murder Case", while the lingering minor pad on "Starved To Death" spells out a more melodious foreboding behind the gently bludgeoning drum cycle. "Bitten" takes a more tentative approach, letting its fuzzy backdrop slowly purr around the delicate, snaking patter of the percussion. Sharp, rasping beats take the lead in the barren landscape of "Elite Dogs Of War", and yet still the opening scuff of "K9 Warrior" will jerk your head around in a most uncomfortable of fashions. Here the noise is cloying, attaching itself to any sonic matter trying to peak through the muck, yet there's time and space for a militaristic narrative to unfold towards the climax of the track. That leaves it to "No Dogs Go To Heaven" to round the release off in a suitably bleak fashion, placing the emphasis on low-end industrial pulse and swirling static firing out into an uncertain stereo field.
Vargdod (Varg + Celldod)

:

Brutal Disciplin

Kennel Murder Case

Vargdod (Varg + Celldod)

07' 00''

Starved To Death

Vargdod (Varg + Celldod)

06' 57''

Bitten

Vargdod (Varg + Celldod)

04' 41''

Elite Dogs Of War

Vargdod (Varg + Celldod)

07' 35''

K9 Warrior

Vargdod (Varg + Celldod)

06' 53''

No Dogs Go To Heaven

Vargdod (Varg + Celldod)

04' 32''
Nice as well: