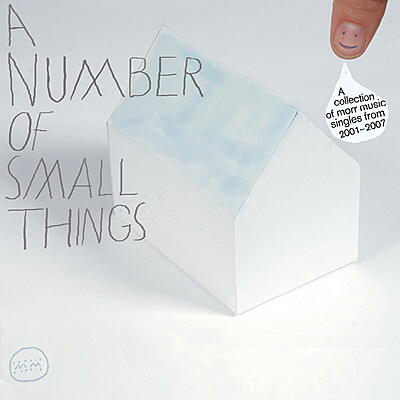 Various Artists
A Number Of Small Things (A Collection Of Morr Music Singles From 2001 - 2007)
Morr Music
morr 079-dcd
Incl. Instant Download
The ear listens, backwards. An acoustic breather and yet three steps beyond. This compilation of Morr Music's little sister A Number of Small Things begins with six brand-new songs (two on each page) that will be released on vinyl in the weeks to come. More on that later on.
First, we go further back. Back to Bernhard Fleischmann's Nico from autumn 2001. A glittering ode, as nonchalant and yet enigmatic as the legend of the same name. A good beginning for the little stories that A Number of Small Things should tell from now on. Stories from Morr Music's heartland that have demanded this special and personal stage. Five vinyl-minutes, twice. Not longer than that. Or, to put it differently: an eternity.
Markus Acher's (Tied & Tickled Trio, etc.) and Valerie Trebeljahr's alter ego John & Yoko uses the time for a congenial cover version of Smog's Morning Paper. Isan thought melancholy and minimalism together - on the basis of Eric Satie's bare pianoscapes Gymnopedie. Masha Qrella finally got to the heart of pop's big promise: Her version of Brian Ferry's "Don't Stop the Dance" became a hit on the radio. And it is also about an artist who set out to leave behind the borders between indie-rock and 'Wohnzimmer-Elektronika'.
And anyhow, this is an essential story behind A Number of Small Things: To find greatness within the small.
But: This compilation tells the story exactly the other way round. It starts with an outlook for the beginning. An outlook for Butcher the Bar, a young, melancholy English artist. An outlook for the cooperation between Anthony Ryan (Isan) and Simon Scott (ex-Slowdive) who - under the name Seavault - went down into the echoing spaces of past Britpop magnificence. And it is also an outlook for Seabear and their equally sovereign and innocent definition of indie pop.
All that can be expected of A Number of Small Things. Also in the future, for the next twenty double-sided vinyls coming up.
Various Artists

:

A Number Of Small Things (A Collection Of Morr Music Singles From 2001 - 2007)

Get Away

(Sampler Version)

Butcher the Bar

3' 20''

Leave This Town

(Sampler Version)

Butcher the Bar

3' 04''

Skvavars

(Sampler Version)

Benni Hemm Hemm

3' 40''

Aldrei

(Featuring Jens Lekman - Sampler Version)

Benni Hemm Hemm

3' 53''

The Mercy Seat

(Sampler Version)

Seavault

4' 43''

I Could Be Happy

(Sampler Version)

Seavault

5' 06''

Teenage Kicks

(Sampler Version)

Seabear

2' 47''

Piano Hands

(Sampler Version)

Seabear

3' 51''

Don´t Stop The Dance

(Sampler Version)

Masha Qrella

4' 33''

Saturday Night

(Sampler Version)

Masha Qrella

4' 08''

Beginning End

(Sampler Version)

Benni Hemm Hemm

2' 24''

Beygja Og Beygja

(Sampler Version)

Benni Hemm Hemm

2' 58''

I´m Not The Lonely Son (I´m The Ghost)

(Sampler Version)

Electric President

3' 17''

Wearing Influences On Our Sleeve-less T-shirts

(Sampler Version)

Electric President

3' 51''

Good Ol´ Boys

(Sampler Version)

Electric President

4' 06''

Dotted Lines

(Sampler Version)

Electric President

4' 06''

Papa Was A Rodeo

(Sampler Version)

John Yoko

4' 07''

Morning Paper

(Sampler Version)

John Yoko

5' 38''

Breathes The Best

(Sampler Version)

Populous

2' 13''

Bon Bon Pour Les Rappers

(Sampler Version)

Populous

2' 27''

Blood Red Bird

(Sampler Version)

Populous

4' 26''

Frisky He Said

(Sampler Version)

B. Fleischmann

3' 54''

Broken Monitors

(Sampler Version)

B. Fleischmann

6' 15''

No. 1.

(Lent Et Douloureux - Sampler Version)

Isan

2' 35''

No. 2.

(Lent Et Triste - Sampler Version)

Isan

1' 55''

No. 3.

(Lent Et Grave - Sampler Version)

Isan

2' 12''

To Simply Lie Here And Breathe

(Sampler Version)

Styrofoam

5' 56''

Oh, But You Are, Really

(Sampler Version)

Styrofoam

4' 38''

Home

(Sampler Version)

Teamforest

5' 35''

I Cannot Care As Much As I´d Like To

(Sampler Version)

Teamforest

3' 27''

Nin-com-pop

(Two Lone Swordsmen - Sampler Version)

Lali Puna

3' 27''

Nin-com-pop

(T. Leboeg Mix - Sampler Version)

Lali Puna

4' 35''

On A Clear Day

(Sampler Version)

Other People's Children

5' 57''

Suicide Common

(Sampler Version)

Other People's Children

5' 47''

Nico

(Sampler Version)

B. Fleischmann

6' 04''

Hyvä Päivä

(Sampler Version)

B. Fleischmann

6' 14''
Nice as well: