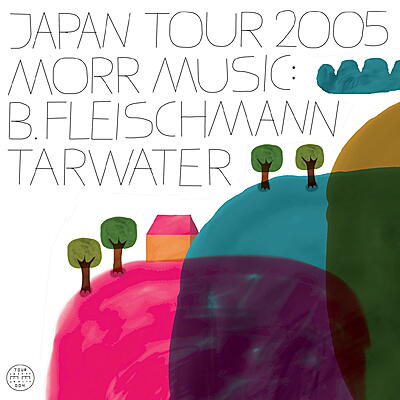 Various Artists
Japan Tour 2005
Morr Music
mm tour 004
Incl. Instant Download
Bernhard Fleischmann & Tarwater : Japan 2005
Made for Japan, at first. Made in Berlin. Made in Vienna. Last year Bernd Jestram, Ronald Lippok and Bernhard Fleischmann were on tour together across Japan. The former ones under the name of their band Tarwater, the latter simply as Bernhard Fleischmann. The EP that is now available is a result of that journey. 24 minutes of repetitive melancholy, half way between digital and analogue, between song-writing and sound-bricolage, folk, dub, electronica.
Tarwater and Bernhard Fleischmann have some things in common: A label, Morr Music. A closeness to places, to Berlin and Vienna. And within these 24 minutes they also share the sounds. An approach, of course. On one side there is Bernhard Fleischmann who has already found his way to more space and more width on his current album The Humbucking Coil. On the other side there is Tarwater, who put their occasional hardness last; who play with sounds in a longing way, always having a little reverberation on the central singing-tracks.
There are alternative remixes from Bernhard Fleischmann, from to and broken monitors. Both are tracks of his latest album. Both are space-taking instrumentals. Music for being on one's way. Tarwater have recorded three new songs. Cassedy: clicks'n'cuts carefully arranged around a guitar-miniature. Glee: spoken words and echo-spirals. Where do we go from here: a really great pop-song.
Various Artists

:

Japan Tour 2005

From To

(Japan Version)

B. Fleischmann

6' 01''

Broken Monitors

(Japan Version)

B. Fleischmann

6' 17''

Cassedy

(Japan Sampler)

Tarwater

4' 17''

Glee

(Japan Sampler)

Tarwater

3' 37''

Where Do We Go From Here

(Japan Sampler)

Tarwater

3' 20''
Nice as well: