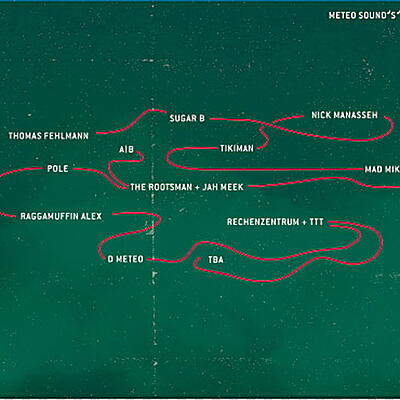 Various Artists
Meteo Sound
Meteo
meteo003 cd
Incl. Instant Download
Braiding together what belongs together: between experimental reggae, dub-influenced laptop sounds, dubby remixes of Berlin fragility and exponents of the UK neo dub tradition, the Berlin-based label METEOSOUND (represented by Hamburg label Select Cuts) has joined the winding ways of a wide variety of dub experimentalists on a compilation.

Combining the best of both worlds with his METEOSOUND nights at celebrated Berlin venue Maria Am Ostbahnhof, Meteo did not just organise blinding dancehall and reggae events with international favourites like Adrian Sherwood and Blood & Fire as well as local activists: at the same time he kept a close eye on the genre's more eclectic frontiers, inviting artists such as Thomas Fehlmann, Alex Paterson, Rechenzentrum, Pole (on whose latest album "R" D. Meteo played guitar) and Monolake. Furthermore Meteo nurtures a far-reaching network of all songwriters, laptop and electronica experts with an affinity to reggae and dub.


METEOSOUND / SELECT CUTS 003 now takes an in-depth look at the broad spectrum of their activities. Overall, the tracks gathered on METEOSOUND / SELECT CUTS 003 are listening music that is nevertheless capable of cooking up a storm on the dance floor, bursting with surprises in the down- and midtempo ranges while irreverently trying out everything short of cosy, huggy dub. The 12" accompanying the CD release again points towards the club, a sphere regularly frequented and furthered by Meteo.

With the exception of Sugar B's "Sugar's Authentic Dub Disco" all tracks on METEOSOUND / SELECT CUTS 003 are previously unreleased.
Various Artists

:

Meteo Sound

Sugar's Authentic Dub Disco

(Edit)

Sugar B

2' 56''

The Sound

Tikiman

2' 48''

Tetris

Rechenzentrum+TTT

4' 54''

Treasure Island

Bus

5' 26''

Fear Of Corners

(L.A. Bus Mix)

Dntel

6' 05''

Seerosengießen

Thomas Fehlmann

4' 25''

Red Roof

Daniel Meteo

3' 54''

Peru

(Moody Bus mix)

TTT + Daniel Meteo

4' 50''

King Of The Land

Manasseh Meets The Equalizer

4' 01''

A To Dub

A/B Vs. Mina

4' 01''

Shazzi Riddem

Barbara Morgenstern + Thomas Fehlmann

3' 38''

Beautiful World

Jah Meek Meets The Rootsman

3' 46''
Nice as well: