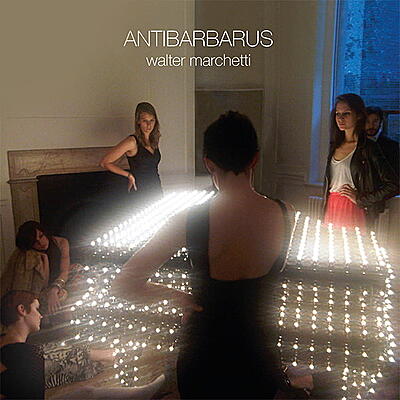 2LP: Full color gatefold sleeve, printed innersleeves, liner notes
Antibarbarus, issued as a compact disc in 1998, was the first edition Walter Marchetti released on alga marghen. Unavailable for distribution for more than a decade, we decided to present this masterpiece now as a double LP. In full color gatefold sleeve and printed inner sleeves (with photos of "Musica da camera n. 182", London, Raven Row, 1989/2011 and "Music in secca", Milano, Fondazione Mudima, 2003) as well as liner notes by Gabriele Bonomo in English and Italian.

The "Antibarbarus" cycle of five pieces makes use of original tapes coming from the same recording sessions that originated some of Marchetti's major musical works realized in the '80s and then collected in his two CDs, "Vandalia" and "Per la sete dell'orecchio". This former series of works presented some homogeneous and untouched sound sources in the 'concrete' status of their inner-and necessarily chaotic-level of entropy. Nevertheless this operative and only in appearance 'neutral' premise introduces an implicit mimetic transposition. This link between the 'iconic' threshold of the acoustical material and its transposition literally deconstructs the prerogatives and the ideological categories of music composition. In "Antibarbarus", the temporal continuum restores the mimesis of the phenomenal regression of musical time, crystallized in a framed-length which gets estranged from subjective domain. But the transfiguration of sound sources now deliberately intends to de-signify the analytical prerogatives of hearing. The sensorial perception is in such a way inhibited from an immediate comprehension of the acoustic reality so reproduced: canis reversus ad vomitum suum. Exit musica: in the epilogue which entitles the entire cycle we find an effective allusion to a 'scatological' decline of time as well as of its sterile and residual 'representations' that music condenses. This appears not without supposing an inversion of its dialectical sign, in order to oppose the antithesis of a radical humanism to the barbarity of utilitarian and instrumental reason.
Walter Marchetti

:

Antibarbarus

Il Coma Regna

Walter Marchetti

17' 04''

Coma Liquido

Walter Marchetti

17' 08''

Coma Vigile

Walter Marchetti

17' 07''

Uscita Dal Coma

Walter Marchetti

17' 16''
Nice as well: