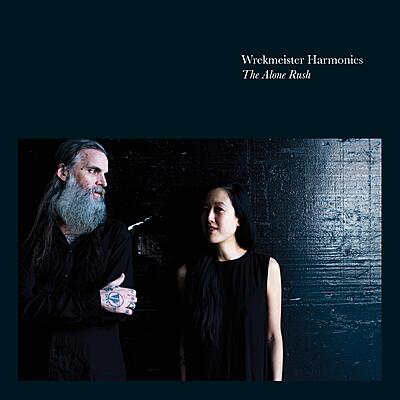 LP: Includes download, incl. artworked inner sleeve, initial copies on grey color vinyl
Wrekmeister Harmonies' new album, The Alone Rush, their first as the core duo of JR Robinson and Esther Shaw, is a hauntingly intense and dark meditation on death and isolation, whose concise compositions carry an emotional heft without the orchestrated bombast of their previous four albums.

The Alone Rush retains Wrekmeister Harmonies' expansive and ambitious aesthetic, blending waves of ethereal keyboards, haunting string melodies, and crescendos of dissonance, but now turns central focus towards Robinson's deep, rich, and soothing vocals.

The Alone Rush features guest performances by Thor Harris (Swans), and was recorded by acclaimed New York producer Martin Bisi (Sonic Youth, John Zorn, Lydia Lunch).
Wrekmeister Harmonies

:

The Alone Rush

A 300 Year Old Slit Throat

Wrekmeister Harmonies

9' 38''

Descent Into Blindness

Wrekmeister Harmonies

4' 28''

Behold! The Final Scream

Wrekmeister Harmonies

7' 46''

Covered In Blood From Invisible Wounds

Wrekmeister Harmonies

3' 55''

Forgive Yourself And Let Go

Wrekmeister Harmonies

14' 16''

The Alone Rush

Wrekmeister Harmonies

7' 01''
Nice as well: