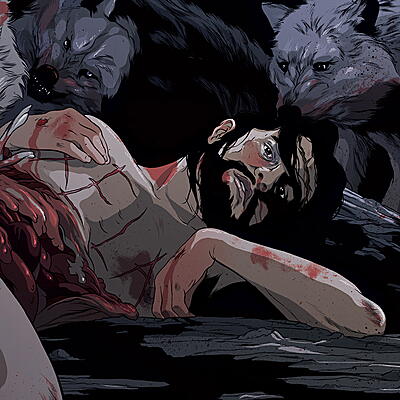 In 2006 Xela (aka Type Records main man John Twells) released the horror-flecked epic 'The Dead Sea'. Taking influence from the movies of Dario Argento and Umberto Lenzi and fusing them with a Lovecraftian concept he created the perfect tribute to his obsession. Every good horror movie has a sequel, and for this full-length follow up John has used the dark corners of the Christian religion as his guide.
Composed initially for a fear-themed Chicago art installation, the sixty-minute piece gradually took shape as a celebration of desolate cellars and distant church bells, the things that truly scare him. Researching further took him to Spain and Italy as he explored Basilicas, Cathedrals and crumbling churches in search of inspiration. Ancient stories, whispered histories and sounds drifting through generations became the basis of the recording, which is split into four distinct parts.
Beginning with metallic scrapes and haunting industrial soundscapes we drift among fluidly dense drones, electrical hums and crumbling noise. Like a doom-laden take on the crunching assault of Hair Police or a noisy version of David Lynch's Eraserhead soundtrack, the music is stripped down to the bare bones of what is necessary. Before long we hit the record's central piece, 'In Deo Salutari Meo' which takes an almost funereal tone, using religious bells as the primary sound source. Eventually the album climaxes on the longest piece, 'Beatae Immortalitatis', which features Heavy Winged's Jed Bindeman on drums. Bindeman was last seen lending his percussive skills to 'Calling For Vanished Faces' which appeared on the Xela/MGR split earlier this year, and here his pummelling beats accompany John's icy oscillator tones. Like a free-form Pan Sonic this takes heavy electronic music into a frightening new place ending in a thick cloud of screams and crackle. One might even call it a religious experience.
Xela

:

In Bocca Al Lupo

Ut Nos Vivicaret

Xela

12' 45''

In Deo Salutari Meo

Xela

13' 52''

In Misericordia

Xela

14' 34''

Beatae Immortalitatis

Xela

20' 38''
Nice as well: