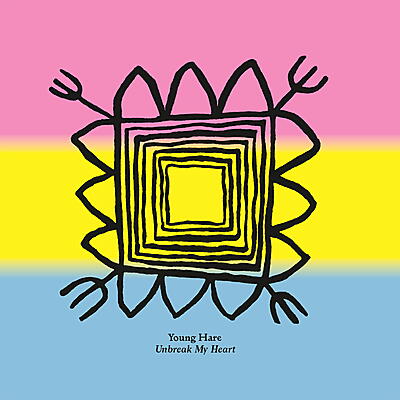 Incl. Instant Download
Young Hare is Marc Krause and Martin Pfanzer from Frankfurt am Main. They play as a so-called 2-piece, named after the Wikipedia featured article of the day. In three-year history of the band, they have tried out a huge amount. The instrumentation changed, new recording techniques developed, and an unconventional live set evolved. Their first four track demo tape "Pick a fruit" was sold out so fast that they forgot to keep one for themselves. Shortly thereafter followed 12" and a split 12" with the band Bdybldng from Berlin. Young Hare recorded their album between May and October 2013. "Unbreak My Heart" sounds like a studio record which wasn't produced in the studio. Recording took place in practice rooms as well as art studios at "basis" in Frankfurt, and then mixed in living rooms. Andreas "Lupo" Lubich / Calyx Berlin did the analogue mastering, as he has done on the last releases. The band and the sound engineer took their time to make decisions that gave the record a special sound signature.Young Hare owe their influence to the Frankfurt electronic culture. With approaches coming from House, R&B, and Disco, the current goal of the band is to find a new idea of pop music without sounding overly-pleasing.
The sound moves along a highly polished surface after a long technical and compositional development process. On the new record, they work with different room sounds, hidden field recordings from greenhouses, reduced guitars, programmed steel drums, and doubling the acoustic drums with an MPC. Expected rhythms and cuts are erased and manipulated; in their own sense, the tracks are long and stretched-out. Sometimes music can't be long enough. A continuous self-sufficiency without fast changes evolves that can be translated to movement and dance. The sound structure is completed by a voice used as an instrument that creates different levels, turning into distinctive moments of the record, tremolos tumbling through vocal loops, and an unmistakable falsetto defining the vocal parts. The imperfect human component mixes clearly constructed samples in the recordings as well as at live concerts.
The plan worked well to record with friends, family, and dogs, and in a new form of collaboration with the label. The texts from Sienna, Isla Nuba, and Isle of Emotions were written by mixed media artists Valerie Sietzy and Domingo Molina Cortes. The cover artwork was drafted by Frankfurt graphic designer Michael Satter.
"Unbreak My Heart" is an album that purely brings the band's influences and attempts together through emotionality, production, and musical understanding. Live, Young Hare moves between the club context and their unmistakable origin out of the DIY music scene.
Young Hare

:

Unbreak My Heart

Don't Be Cruel

Young Hare

6' 58''

Sienna

Young Hare

2' 41''

Isla Nubla

Young Hare

6' 10''

The World We Are

Young Hare

38''

Cao Lau

Young Hare

5' 33''

Rio Doro

Young Hare

5' 49''

Pond Life

Young Hare

5' 18''

Isle Of Emotions

Young Hare

6' 40''
Nice as well: