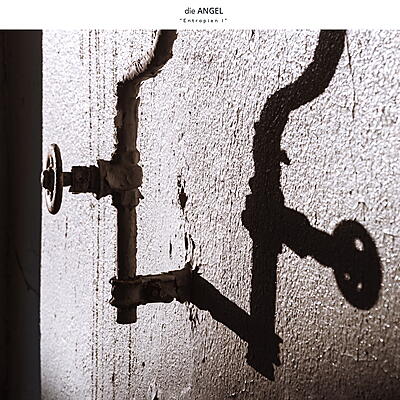 Ilpo Väisänen (Pan Sonic) and Dirk Dresselhaus (Schneider TM) retitle themselves die Angel for Entropien 1; their eighth LP of electro-acoustic music together, and the duo's debut for Shapednoise's Cosmo Rhythmic label.

Accompanied by skilled improvisor Oren Ambarchi on two tracks, die Angel model a complex physicality through raw, elemental inputs, exploring a flux of reactive feedback processes and mutating, unstructured sonic states generated from crackling fusions of electronics, drums, electric guitar and field recordings warped and riddled with FX.

Taking its title from both the Finnish word and German plural for entropy - in physics, the measure of thermodynamic disorder within a system - Entropien 1 renders seven examples of their kinetic systems in elusive action, keening from arrhythmic mulch to sloshing brownian motions and a brilliantly towering 15 minute exploration that tips into billowing, white hot feedback with scintillating effect.

The amorphous results document and describe a freeness of energy travelling from body to machine and diffused across alternating acoustic environments. Each player works as controlled, external variables which act upon and interact with the different acoustic conditions to tempestuous impact, convulsing between squashed, recursive diffractions in Roha, to the sublimated roil of jazz drums and electric guitar wail in Terminen Keva¨t, before harnessing sloshing feedback chaos in the combustible, diaphanous two parts of Entropia - both North and South - which bring the LP to its logical, compelling conclusion.

With the addition of Wold or KTL-like metal emulsification and lacquer-bubbling grain in Kitka, and Ambarchi's plasmic overdubbing in the burning plasmic plong of Silvaticum, the overall impression is like auditive DMT, dissolving the senses and the ego - simultaneously theirs and the listeners - to better snag us in the music's metastable potential and aid our unanchored exploration in those dimensions.

Entropien 1 is dedicated to Mika Vainio.
die ANGEL

:

Entropien I

Terminen Kevat

die ANGEL

6' 25''

Silvaticum

die ANGEL

6' 20''

Papyrus

die ANGEL

3' 51''

Entropia North

die ANGEL

15' 50''

Entropia South

die ANGEL

5' 37''
Nice as well: