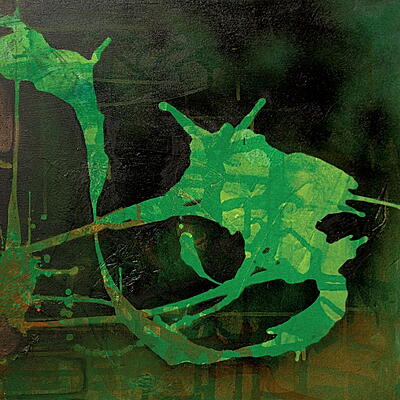 3LP: Tri-fold sleeve, ltd. to 300 copies
It gives me the greatest honour to finally be able to announce the release of this amazing triple vinyl masterpiece by log(m) and Laraaji on Invisible, Inc.

It's been over a decade since Laraaji first joined forces with log(m) in their Canadian studio in early 2007. In those ten years the trio recorded many hours of music. Over time these recordings, beginning essentially as live jams, were polished, dissected, processed, re-arranged and then finely and painstakingly distilled down to the 105 minutes of music that now form this album, which finally reached completion just earlier this year. The wait has been more than worth it.

The Onrush Of Eternity is a melding of minds like no other. Ever the pioneer of experimental ambience, Laraaji's signature hammered dulcimer, zither, mbira, auto harp, sruthi drone box and of course his exceedingly positive vibes are here combined with log(m)'s unique vision of gronky hi-tech psychedelic space dub. The resultant voyage into deeply meditative ambience and trance-inducing dub is as unexpected an outcome as it is a bona fide "Eureka" moment. It sounds neither like log(m) OR Laraaji....but of course like both. It is one of those rare collaborations that is, without a doubt, even greater than the sum of its already great parts.

Log(m) started making waves in the early '90s as Legion Of Green Men with their visually striking 12"s, complete with eternal opuscules (locked grooves) and mathematically inspired titles, all lovingly issued on their own Post Contemporary imprint. These deservedly got the attention of Richie Hawtin who promptly asked the duo for an album on his own classic Plus 8 Records. 20+ years later and the music (much like their name) has morphed into something more sophisticated: even more complex, atmospheric and deeper than ever.

Laraaji's reputation of course precedes him: he first came to wider attention when Brian Eno released his "Day Of Radiance" as part 3 of his Ambient Series in 1980. Since then, Laraaji has released over 40 albums, yet his stellar path seems still to be on the ascendant - a recent landmark being the 2017 "Sun" series of albums for the wonderful All Saints' Records.

This unique triple LP in tri-fold sleeve is limited to 200 copies on coloured vinyl and 300 copies on black vinyl featuring ten of log(m)'s signature eternal opuscules and cryptic engravings on all three discs.
log(m) & Laraaji

:

The Onrush Of Eternity

Daisy Fields

log(m) & Laraaji

3' 35''

Sruthi Dub Resonance

log(m) & Laraaji

4' 35''

Barefoot

log(m) & Laraaji

8' 23''

Oregano In Dub Minor

log(m) & Laraaji

8' 36''

Sunken Forest

log(m) & Laraaji

4' 20''

Daisy Dub

log(m) & Laraaji

4' 34''

Time Zone Conversations

log(m) & Laraaji

4' 05''

Deeping Breathly

log(m) & Laraaji

7' 41''

Oregano In E Minor

log(m) & Laraaji

6' 26''

Sruthi Box Resonance

log(m) & Laraaji

4' 19''

Galaxea

log(m) & Laraaji

6' 46''

Be As You Are

log(m) & Laraaji

6' 13''

Sundog Suite

log(m) & Laraaji

8' 20''

Pear Strings

log(m) & Laraaji

7' 32''

Spiral Activator

log(m) & Laraaji

15' 56''
Nice as well: